Stressvest™ Overview
StressVest™ is the world's first non projectile, force on force, firearm tactical training system capable of creating stress through a pain penalty without fear of projectile injury for training Law Enforcement Officers and Military Soldiers. The system utilizes training firearm that fire a laser pulse which activates the StressVest™ when it strikes center mass. Depending on the setting, the vest will either deliver a vibration or a safe, localized shock to the abdomen.
Allows officers to train under a state of acute stress creating schemas that will dramatically increase their ability to survive a deadly force encounter with a firearm.
Sets up in seconds, maximizing training time and allowing you to train anywhere, anytime.
Does NOT require any special safety equipment, saving you time and money. Most importantly creating more realistic training by allowing you to see facial cues and hear auditory sounds clearly. Finally . . . train the way you fight.
Operates through most color clothing, allowing the StressVest™ to be completely concealed.
Training lasers can be fired through windows/windshields and offer a perfect ballistic match to issued ammunition for accuracy/distance.
Requires NO safety equipment. No projectiles = greater safety, less cost, no clean up, no need for special training facility.
Utilizes the wireless StressX™ PRO Belt that has Patent Pending software offering Advanced Training Modes never before seen in RBT dynamic scenarios.
Only registers center mass hits ensuring transference on how students are trained to shoot on the range vs shooting in force on force training.
Optional Head Sensors and side panels allow for specialized training.
Integrated Training IED's provide for a pain penalty to Officers/Soldiers within a preset "kill radius" upon detonation.
Click here for detailed list of StressVest™ Advantages.
Instructor CQT Tablet
The Instructor CQT Tablet remotely configures and controls up to 10 StressVests™. The CQT Tablet manages and interacts with scenarios from start to finish to give the Instructor unprecedented control of the training environment from activating individual StressVest™ to rendering all StressVests™ inert. Real time data includes seeing hits and monitoring trainees heart rates. Use the CQT Tablet's camera to record and play back scenarios.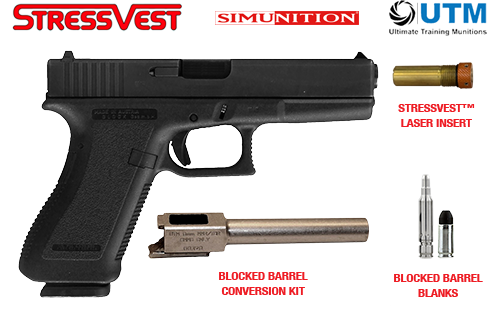 Blank Fire Training System
StressVest™ has partnered with UTM™ and Simunition® to create StressVest™ Blocked Barrel Conversion Kits that are compatible with a StressVest™ laser insert. With each blank round fired, the laser insert will emit an eye safe red laser pulse that will activate the StressVest™.
Note: UTM StressVest products not available in Western Canada, Northern Canada and Quebec (Simunition Only)
Advanced IED Integration
The IED Adaptor integrates any training IED with the StressVest™, producing the world's first IED training system with pain penalty. Preset your "kill radius" from 30ft to 100ft and all StressVests™ within that radius will be activated upon detonation.
StressVest™ Reality Based Training Instructor Certification
StressVest Inc. is proud to announce the launch of the most advanced Instructor level course in the area of use of force and firearm scenario based training. This course will educate instructors on the most up to date advancements in scenario and stress performance based training.